Modeling a Geometric Sequence with a Function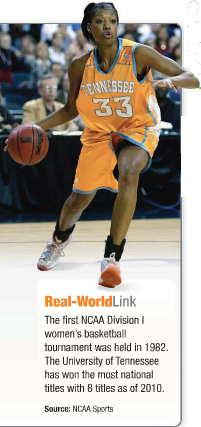 The NCAA women's basketball tournament begins with 64 teams. In each round, one half of the teams are left to compete, until only one team remains.
Below is a table that shows the number of teams for each round. Below the table is a slider with which you can change the starting number of teams. Finally, a scatterplot plots the number of teams versus the round.
Try This
Change the starting number of teams. You can do this either by dragging the slider thumb or by typing a new number. (You may need to rescale the vertical axis by dragging the top number down.)
Type an expression in the box at the top of the graph. For example, type 100/x.
Questions
How many rounds will a tournament last with 90 teams? How about with 60 teams?
How many teams would there need to be for the tournament to last 8 rounds? How about to last 10 rounds?
Plot a function on the scatterplot that goes through all the points. Can you make the function so that it will work no matter how many starting teams there are?